The registration process is quite simple: you need to open the program (any project) in the settings, specify the login and password, and click the "registration" button.
The registration period is limited in the same way as the installation period, and ranges from 15 to 30 days (at least 15 days) from the moment of downloading the Program, after which access to the Program and registration are not available. If you did not manage to register the license, you need to download and install the program update again (Update) to register the license.

Registration is possible only if you have access to the Internet.

To register a Budget-Plan Express license, you need a login and a password that the user receives via e-mail, and an Internet connection is required. The registration procedure is performed after installing the Program from the "General settings" module ("Main menu → Settings → General settings → «Registration» tab"):

To register, you need to enter the Login and Password, then click the "Register" button and wait for the registration to complete (no more than a minute):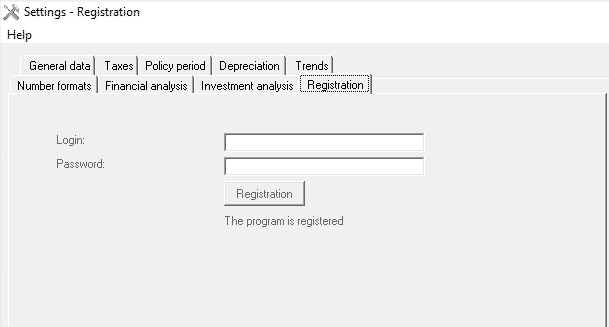 The program will report successful registration or that the registration failed (indicating the reason or error code). If successful registration, the summary message is displayed: License registration completed successfully!
You can see the registration number (generated during the registration process) and the license type in the "About the program" form: (Main menu → Help → «About the program»"). Until then, the license number is defined as unregistered: "no registration" ( no registration):